Team Building Activities Singapore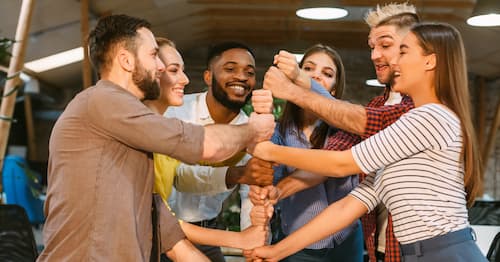 Looking for team building activities in Singapore that are fun, creative and challenging? Look no further than Art Jamming! This unique team bonding experience is perfect for companies of all sizes. Here's what you can expect: Participants will be given a blank canvas and a selection of art supplies to create their masterpiece. No art experience is necessary - everyone is welcome! The atmosphere is relaxed and fun, so team members can get to know each other while expressing themselves creatively.
Benefits of Team Building Activities
Improved communication and team work
Improved communication and team work are some of the key benefits of team building activities. Art jamming encourages team members to listen, collaborate, and work together in a way that allows all team members to feel heard and respected. The relaxed atmosphere also promotes open dialogue and honest conversation which helps team members understand their colleagues on a deeper level. Furthermore, team building activities help team members bond, develop trust and respect for each other.
Increased creativity and productivity
Increased creativity and productivity are two of the key benefits team building activities bring to an office. Art jamming, in particular, encourages team members to think outside the box and come up with creative solutions. This fosters an environment where team members feel comfortable taking risks, leading to increased productivity. When team members work together on a project, they are able to come up with more innovative ideas and solutions.
Enhanced Problem Solving Skills
Team building activities such as art jamming can help team members develop enhanced problem solving skills. The team-oriented atmosphere encourages team members to work together to identify the issue and brainstorm possible solutions. This helps team members learn how to think critically and expand their problem-solving capabilities. Furthermore, team building activities also help team members develop leadership skills, as team members can practice taking the lead in a relaxed setting.
Ultimately, team building activities in Singapore are a great way to foster communication and collaboration among team members so here are The Perfect Team Building Activities for Your Singapore Office:
Recommended Activities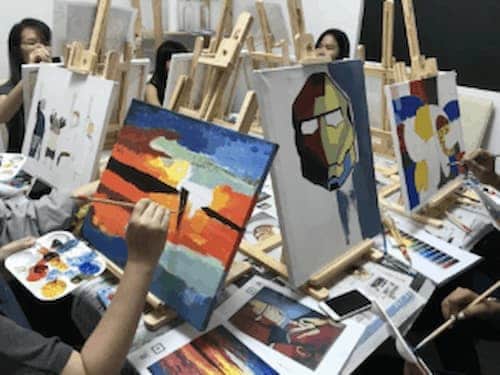 Art jamming is especially well suited for team-building activities since it enriches members to express their creativity while cooperating. Team-building activities also aid in the improvement of leadership, problem-solving, and communication abilities. All of these benefits make team building activities a must for any successful team in Singapore. Although art jamming is not competitive, there's something about creating a painting everyone is proud of that compels people to put in their best effort. Employees will use each of their canvases to create a single collective painting during the group art jam. By encouraging employees to put out their best effort to produce a well-rounded and successful finished painting, this helps to advance the results culture.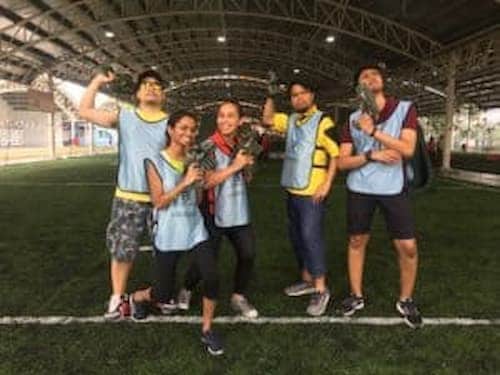 An effective team effort is necessary to win this game. To increase employee cooperation, employees would need to strategize in their teams utilizing cutting-edge laser guns. Because of this, we think laser tag is a good fit for order culture personnel.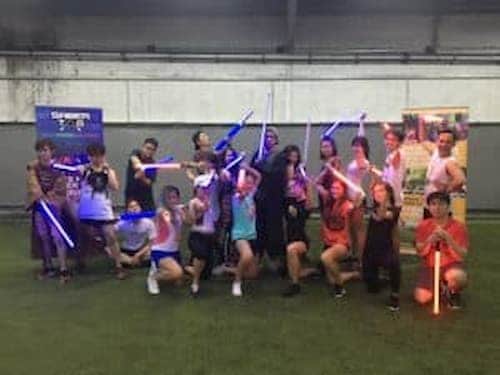 Employees in Singapore's order culture will benefit from this type of corporate activity because winning requires teamwork and strategy. The first game of its kind in Asia, Saber Tag, uses electronic scoring vests and dueling sabers. Your team member has access to games like Defenders of the Galaxy, Battlestar Invasion, and Galaxy Wars.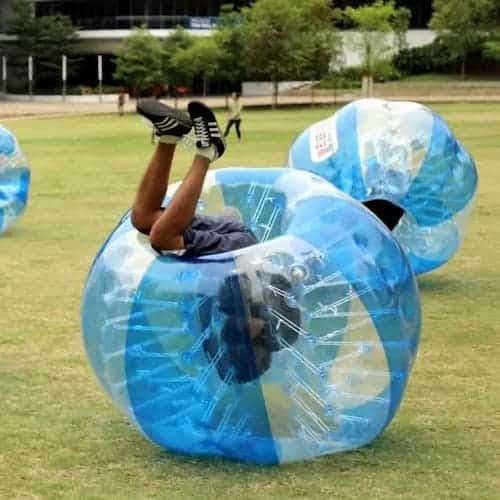 Bubble bump is the first team-building activity we recommend for these employees' sense of humor! Participants in this unique soccer game for team development must wear inflated bubbles. So get ready to banish your employment concerns! With so many game types to pick from, including Bubble Bump Invasion, Bubble Bump Zombie, and many more, this activity is sure to be a favourite with your staff.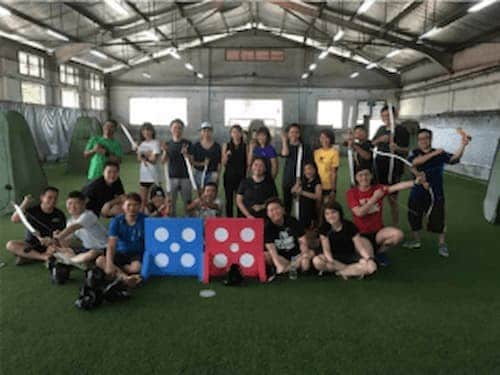 Combat archery is another thrilling team-building activity. Dodgeball, paintball, and archery are all included in the game of "Combat Archery Tag." Given how quickly the game moves along, staff members are sure to be active and stimulated. The Domination, The Revival, and The Last King are the three game types available. Employees can strategize, interact, and take on different roles during the game! The fun-loving and enthusiastic individuals who work in the pleasure culture will be satisfied by this well-known birthday party game. This is an excellent team-building exercise for corporate teams in Singapore.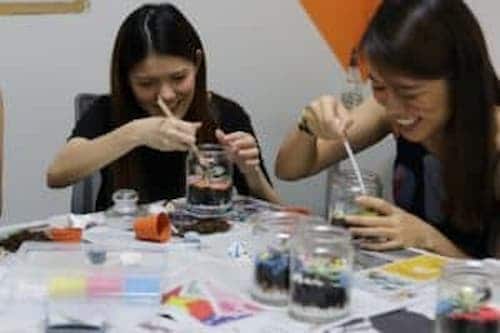 The terrarium workshop is not only a green way to strengthen team relationships, but it's also quite simple to keep up. Because they will be working toward attempting to complete such a healthy mini-activity, it is perfect for employees from purpose-style firms. The terrarium's ecosystem is self-sustaining and recycles condensed water vapor from the plants and dirt back into the ground. Thus, you simply need to add water during the workshop. It is ideal for an entire team that is busy because of how low upkeep it is. Last but not least, rather than just being a standard team-building activity, employees would enjoy this enjoyable event since it has relevance to the sustainability movement. So what are you waiting for? Create your own mini-garden now! This is one of the more light-hearted team-building activities Singapore.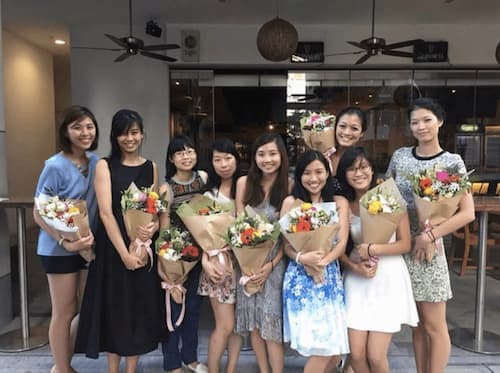 Making flower arrangements together is another team-building exercise ideal for organizations with a purposeful culture, similar to the Terrarium Workshop. You'll discover that after taking part in these distinctive team-building exercises, you'll be focused on the shared objective of attempting to create lovely yet durable works of art for your home or business!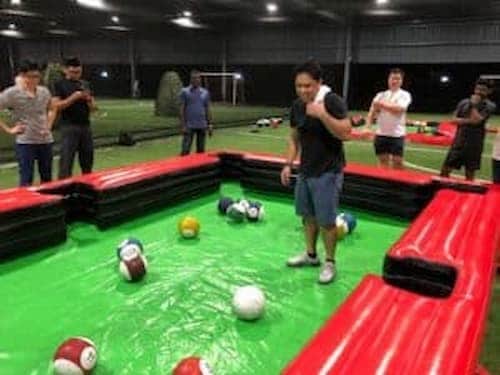 Poolball is a sport that combines both soccer and pool, thus we highly recommend it! Given that your employees will probably be playing the game for the first time, its distinctive blend makes it difficult. Both sports' rules are included into the game; as a team, the employees use a pool stick to strike colored balls into a goal. To win, team members simply need to put as many balls in the net as possible. The game's competitive aspect undoubtedly aligns with the ideas of the results-oriented culture, where individual effort is crucial to reaching ultimate success.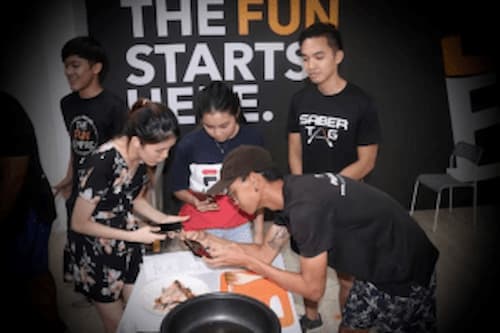 This enjoyable team-building activity is great for businesses that value compassion! Most likely, there are members of your staff who have varying degrees of cooking experience. But that's all part of the fun! Teams of various ability levels can study and impart knowledge to one another (this is especially true in our experience). This encourages interdependence, builds partnerships, encourages mutual trust, and strengthens connections. Furthermore, flexibility is crucial if mistakes are made. Learn to laugh it off and provide the best response! This is also among the top team-building activities in Singapore.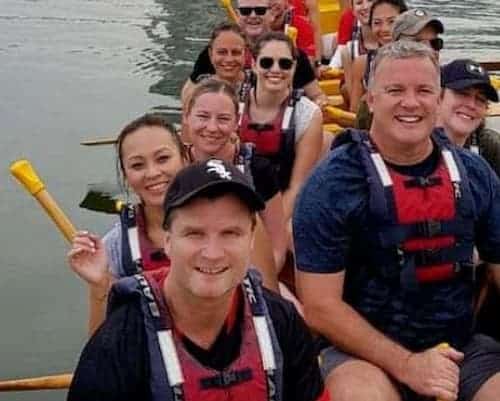 Dragon boating is often associated with its extreme rigors, or rigorousness. The majority of us would concur that dragon boating does not sound like a humorous and enjoyable team building activity, unless you are a fit group who appreciates adventure. It is excellent for encouraging a caring culture because of this, though. Not only does it require coordination among the employees paddling, but the force that eventually keeps the team going is also the support each gives and receives. A physical activity that helps the whole team. Through this team bonding activity, employees will get to build trust in each other and get to know their colleagues better. This is one of the more popular team bonding activities in Singapore.
Team Building Activities Singapore
The team building activities in Singapore are great for team bonding and collaboration, no matter what type of team activity you choose. Whether it's Art Jamming, Escape Room Singapore or Corporate Adventure Tours, team members will gain valuable team building skills that they can apply to their office environment. By taking team building activities seriously, employers can create an environment that encourages team cohesion and team spirit, while also increasing team productivity. So why not give team building activities a try in your Singapore office? You won't regret it!
We wish you the best of luck with team building activities! May they bring success to your team.
Happy team building!
Frequently Asked Questions
Which team building activity should I choose?
When choosing a team-building exercise, it is crucial to take employee preferences and company culture into account. In sports like laser tag and saber tag, workers who take pride in their work may do better. Team building activities in Singapore are a better choice if the corporate culture values collaboration and teamwork.
What are some Singapore team building activities?
Singapore team building exercises can be used to strengthen relationships within the group and promote cooperation, problem-solving abilities, and teamwork. There are many activities offered, including escape rooms, laser tag, and saber tag. These exercises are appropriate for workers who value group achievement over individual focus.