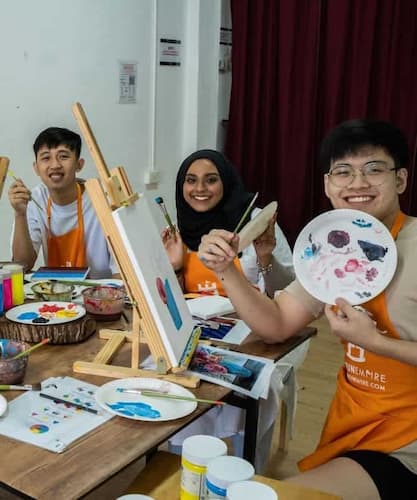 Painting Workshop Singapore
Looking for something fun and creative to do on a weekend? Why not check out one of the many paint workshops in Singapore? Art Jamming Paint workshops are a great way to spend a day, and they can be enjoyed by people of all ages.
Plus, painting can be a great way to relax and unwind, and it's also a great way to get your creative juices flowing.
In this article, we will discuss some of the best art jamming paint workshops in Singapore. We will also provide information on what you can expect from these workshops.
So if you are looking for something new and exciting to do, be sure to check out our list of the best painting workshops in Singapore! Grab your paints and brushes and get ready to have some fun, in this Art Jamming Workshop!
Benefits of attending art jamming sessions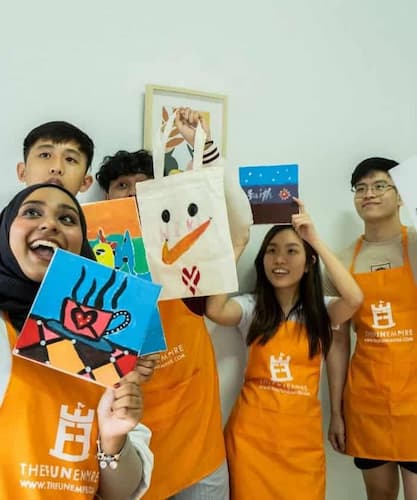 1. Art jamming sessions can improve mental well-being
Art has been shown to improve mental well-being in a variety of ways. For instance, art can help to reduce stress and anxiety, and can also be used as a form of therapy for people who suffer from mental health conditions such as depression and PTSD.
2. Art classes can help improve physical health
In addition to improving mental health, art can also have a positive impact on physical health. Studies have shown that making art can help to boost the immune system, and can also help to reduce pain levels in people who suffer from chronic conditions such as arthritis.
3. Art workshops can help improve cognitive function
Engaging in creative activities has also been shown to improve cognitive function. One study found that older adults who participated in an art program showed improved memory and executive function, while another study found that children who participated in an arts education program had better academic performance than those who did not.
Attending art jamming sessions can also provide social benefits. These sessions provide a space for people to come together and interact with others, which can help to build relationships and foster a sense of community. Additionally, participating in art can be a great way to meet new people and make new friends.
5. Art jamming session can give fun and relaxation
Last but not least, attending art jamming sessions is simply fun and relaxing! Art is a great way to unwind after a long day, and can be a great way to de-stress during times of high stress.
Whether you're painting, drawing, or sculpting, making art is a great way to forget about your troubles and just enjoy yourself.
Tips before attending art jamming workshops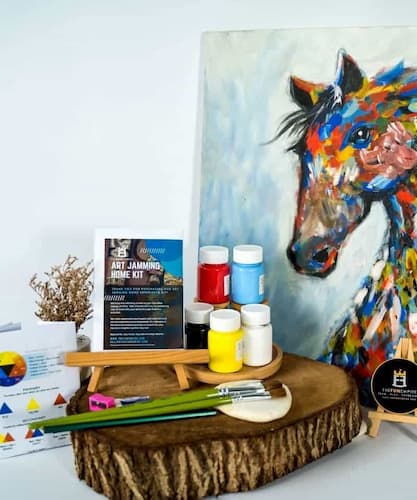 1. Choose the Right Workshop for your Art Jamming Studio
When choosing an art jamming workshop, it is important to find one that is suitable for your skill level. If you are a beginner, look for a workshop that offers basic instruction. If you are more experienced, look for a workshop that will challenge you and help you to improve your skills.
2. Gather Your Supplies
Before attending an art jamming workshop, make sure to gather all of the supplies that you will need. This includes things like paints, brushes, canvases, and any other materials that will be required. If you are unsure of what to bring, ask the workshop instructor in advance.
Although, all the materials were provided here at Fun Empire!
3. Dress Appropriately
When attending an art jamming workshop, it is important to dress appropriately. Wear clothes that you don't mind getting dirty, and be sure to wear closed-toe shoes. Long hair should be tied back, and you may want to bring a smock or apron to protect your clothes from paint.
Let your budding artists inside, unleash your inner Picasso in these craft workshops.
4. Follow the instructions in these art jamming workshops
During an art jamming workshop, it is important to follow the instructions of the instructor. This will help you to get the most out of the experience and ensure that you create a masterpiece that you can be proud of.
5. Have Fun!
Above all else, remember to have fun! Art jamming is all about expressing yourself and enjoying the process. Don't worry about making mistakes – they're all part of the learning process.
Recommended Activities
Fun Empire Art Jamming Workshop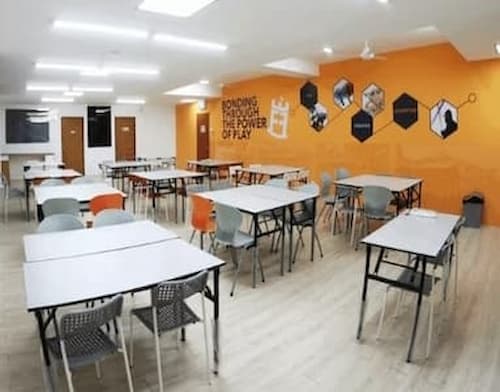 How much does the art jamming workshop cost?
The art jamming craft workshops cost differently depending on the package:
1. Individual Art Jamming Workshop (with Air-Conditioned Venues Available) it is starting from $25/pax
2. Neon Art Jamming Workshop (with Air-Conditioned Venue Available) is starting from $25/pax
3. Tote Bag Art Jamming Workshop (Air-Conditioned Venues Available) $30/pax
4. Group Art Jamming Workshop (Air-Conditioned Venues Available) starting from $35/pax
5. Virtual Art Jamming Workshop (100% Online Experience) starting from $38/pax
6. Public Art Jamming Workshop (Air-Conditioned Venues Available) starting from $27/pax
7. Art Jamming Creative Home Kit (Air-Conditioned Venues Available) starting from $35/pax.
Specially Curated List Of Event Venues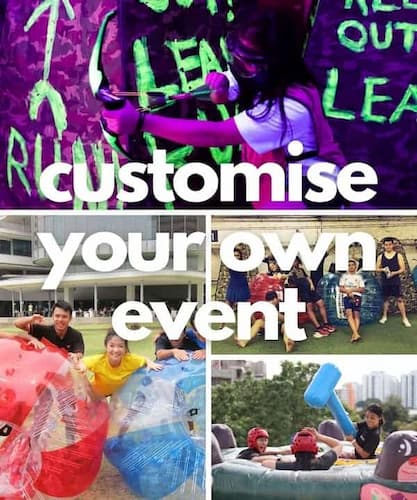 Awaken your creative side and join us in one of our multiple, conveniently located venues across Singapore. We are the only Art Jamming provider that can give you both a physical, at-home, and virtual experience!
Our welcoming atmosphere will make sure your artistic journey is an unparalleled adventure that caters to all levels of knowledge.
Although, there are a lot of art jamming studios in Singapore. Different art space that will motivate you to create your art piece and hone your painting skills. The best art jamming studios are, first Fun Empire, Splat Paint House, Liberty Art Jam, Artify Studio, Motion Art Space, Splatter Paint Studio, if you want to have a complimentary drink, you can go to Cafe de Paris, Boutique Tea House, Goodman Arts Centre, to unleash that inner Pablo Picasso and Van Gogh in you!
Also, if you would like places to go to to appreciate art, there are tons of galleries you should visit around Singapore such as the Mandarin Gallery and the Heartroom Gallery!
Invest Your Time & Money With The Best In Singapore
With over 3000+ five-star reviews, FunEmpire is the undisputed leader in art jamming workshops within Singapore.
In our art studio, you can make sure that you are investing your corporate team building in an experience that will surely let your creative juices flow along the creative process. Make your own abstract art, use reference pictures, paint tote bags, and many more! You'll surely have fun in the corners of our studio walls with your acrylic painting!
Save More Time With Our Dedicated Event Support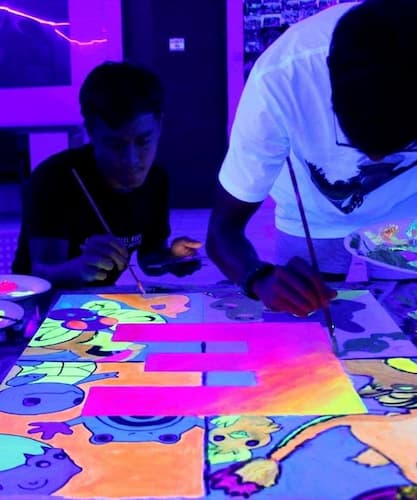 Our professional and knowledgeable facilitators are the perfect choice for all your events, no matter how big or small. Look to us to relieve you of any organizing stress associated with your special occasion!
Our team of facilitators has gone through rigorous ISO 9001:2015 Certified ASEA™ Facilitator Training Programme, allowing us to guarantee outstanding service and an excellent experience. Our commitment is that you can relax and enjoy the day without any worries, knowing every detail will be attended to.
Variety of Packages To Suit Any Requirements
Liberate your imagination and join forces with your team to generate a distinctive masterpiece!
If you're looking for a creative outlet, look no further! We offer various Art Jamming packages that include Neon Art Jamming, Group Canvas Art Jamming and Virtual options - just pick the package you like best. Let us provide all of the essential materials to help create your masterpiece with ease!
We can arrange your corporate team building, birthday parties, family bonding, and gathering depending on your needs! You can have your personal art space, unlimited acrylic paint, fabric paint for the tote bag art pieces, have your own food, and all the tools provided just for you!
Painting Workshop Singapore
For anyone looking to explore the visual arts, participating in the best painting workshop in Singapore is an enriching experience. From complete beginners to experienced artists, anyone is welcome to join this vibrant and creative environment that allows them to create something truly their own using a wide range of painting materials and techniques.
With friendly instructors who emphasize safety, creativity, and fun, all participants can be sure they will have an enjoyable learning experience and be sure to leave with unique artwork they can proudly hang on their wall.
Frequently Asked Questions
Are there any age restrictions for the paint workshop?
Yes, there is an age restriction for the paint workshop. Generally, participants should be of at least 5 years old to join the paint workshop.
This is to ensure that all participants are mature enough and understand the safety instructions given by the instructors. However, some art jamming studios may have different age restrictions so it's up to them and their rules.
How long is the paint workshop?
The paint workshop usually lasts for around 2 to 3 hours depending on the package that you have opted for. The time may also be adjusted according to the size of the group, for example, with a minimum of 2 participants and a maximum of up to 10 people per session. No worries for the workshop will begin with an introduction from your facilitator!
What type of paintings will be made in the painting workshop?
The paint workshop offers a variety of painting options for all skill levels, from beginners to experienced artists. Participants can create anything they can imagine such as abstract art, landscape paintings, portrait paintings, or even use reference pictures to paint on canvas.