Unleash your creativity and bond with your colleagues, friends, and family with the best Art Jamming Workshop in Singapore!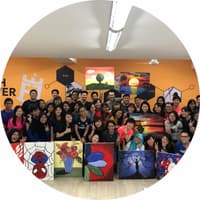 Team Building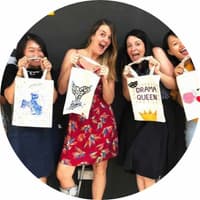 Celebrations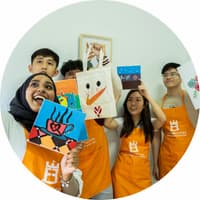 Gatherings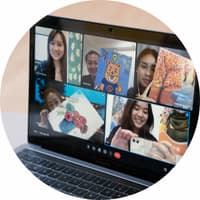 Virtual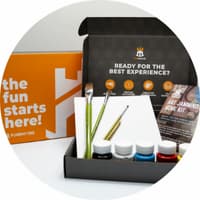 Gifts


Art Jamming Singapore

#1 Art Jamming Workshop In Singapore

1 Million+
Happy Clients
30,000+
Successful Events
3,000+
5-Stars Reviews
200+
Media Features
Why Choose Art Jamming Singapore?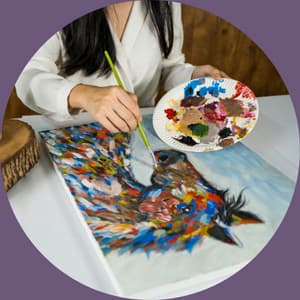 wide variety of art jamming packages

We offer a wide variety of Art Jamming workshop packages, suitable for all group sizes and occasions! Whether you're looking for a fun team building activity, a corporate event or a private party, we have the perfect Art Jamming package for you!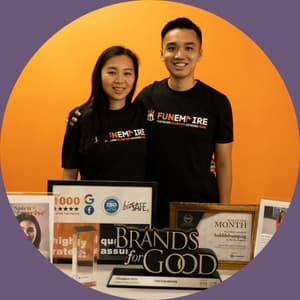 award-winning & quality assured

The team behind Art Jamming Singapore has won Won multiple awards such as Forbes 30 Under 30 Asia, Brands for Good (Champion) and Spirit of Enterprise. We are the ONLY events company in Asia that has attained ISO 9001 & BizSafe Level 3 certification.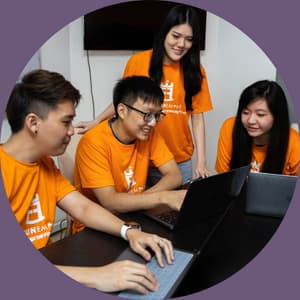 dedicated event support for all workshops

We are a one-stop solution for all your event needs. Our event consultants and facilitators are professionally trained with our proprietary ASEA™ Facilitator Training Programme (ISO 9001:2015 certified.) Leave the nitty-gritty details to us while you focus on having fun in our Art Jamming workshops!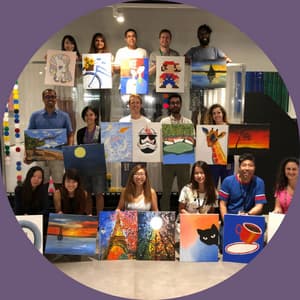 highly rated & industry recognized

We have received over 3,000 five-star reviews on Google, Facebook, Yelp, and other platforms! Multiple media outlets such as Forbes, The Straits Times, TimeOut, Business Week, The Smart Local, e27, Vulcan Post and more have featured the team behind Art Jamming Singapore!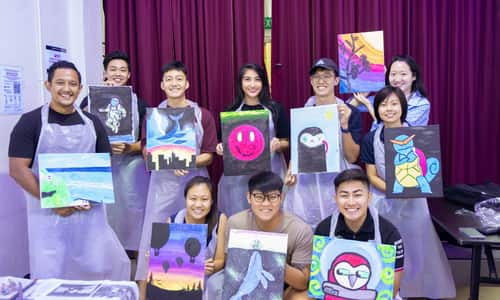 Team Building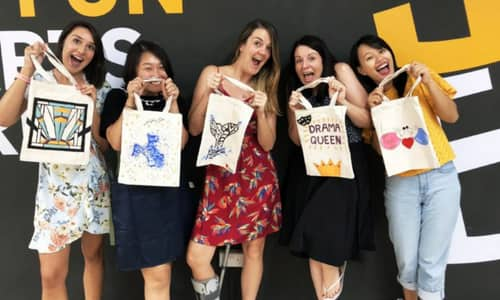 celebrations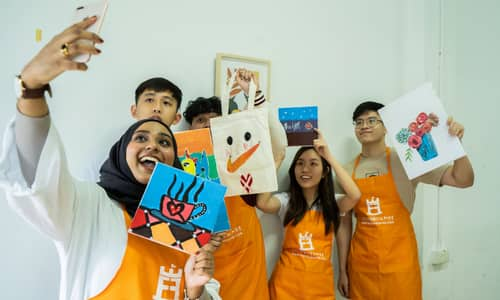 gatherings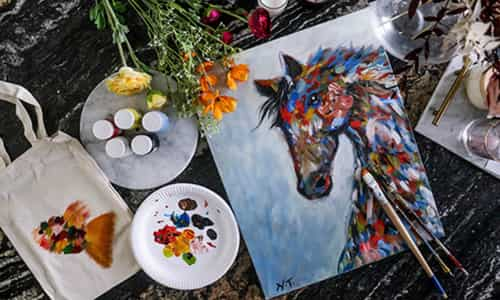 Gifts

Art Jamming Singapore Packages

We have everything you need for the best Art Jamming Experience, all in one place.

Creative Home Kits

We have everything you need for the best Art Jamming Experience, all in one place.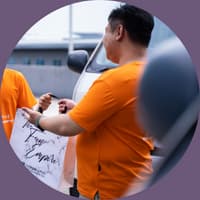 Delivered Straight To Your Doorstep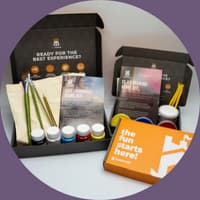 All Necessary Materials Provided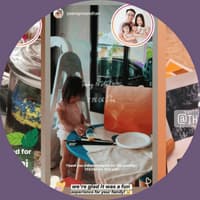 Highly Raved By Influencers & Media
Art Jamming Singapore

The Best Art Jamming Workshop In Singapore

Experience the best Art Jamming workshop in Singapore!

Art Jamming is a great way to unwind, relax and get in touch with your creative side. Our Art Jamming workshop is perfect for team building, corporate events, birthday parties, bachelorette parties or just a fun night out with friends.

Art Jamming Singapore provides all the materials you need – canvases, paints, brushes – and our professional facilitators will be on hand to help you create your masterpiece. No experience necessary!

So come on down and let your inner artist out!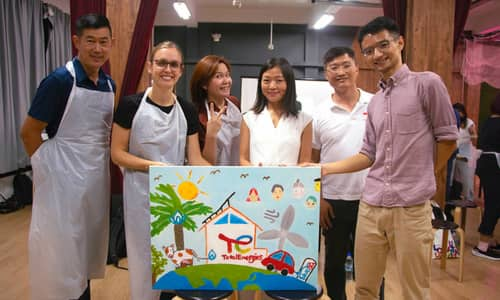 Team Building
Bring your group of friends or colleagues together by working on the same painting or share your individual art pieces with each other!

Our Art Jamming Workshop is the perfect team building activity that will get everyone working together towards a common goal.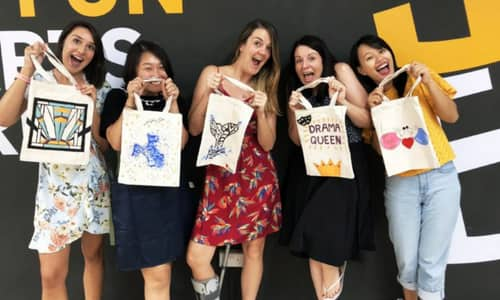 Celebrations
Our private Art Jamming workshop is perfect for families and friends looking to spend some quality time together for special occasions!

Bond with your loved ones and celebrate birthdays, anniversaries, engagements and more by documenting the moment with a painting.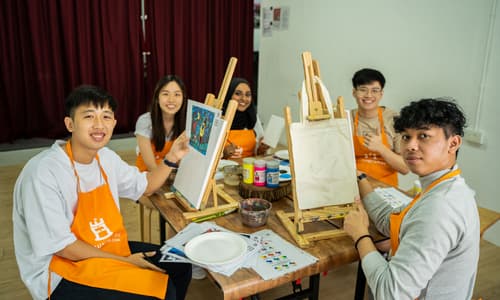 Gatherings
If you're looking for a way to relax, have some fun and express your creative side, our Art Jamming workshops are perfect for you!

You'll be able to meet new people and create something beautiful with your friends at the same time. It's a great activity to do together with your friends!


Trusted And Loved By Over 1 Million Clients
We provide our clients the highest quality service. We deliver the best event experience custom-tailored to each and every one of our clients — big or small.

Join 1,000,000+ other Consumers, Businesses, Schools & Government Agencies


















Over 1 Million+ Clients Had The Best Event Experience With Art Jamming Singapore. Make The Right Choice. What Are You Waiting For?

Specially Curated List Of Private Locations Across Singapore

Convenient Locations Across Singapore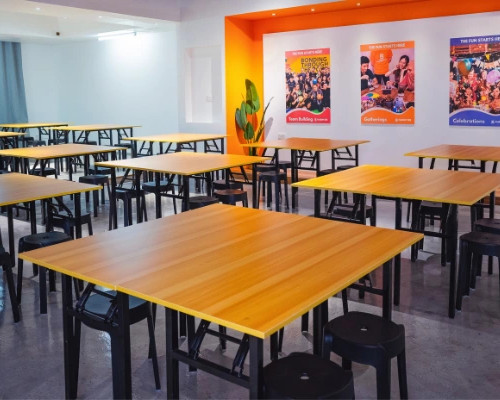 FunEmpire HQ
60 Tannery Lane, S347803
✓ Mattar MRT (Within Walking Distance)
✓ Neon Blacklit UV Lights
✓ Non-Peak Period: Weekdays (Before 6pm)
✓ Peak Period: Weekdays (After 6pm). Weekends. Public Holidays
✓ Indoor Air-Conditioned Venue
✓ Parking Available (Chargeable)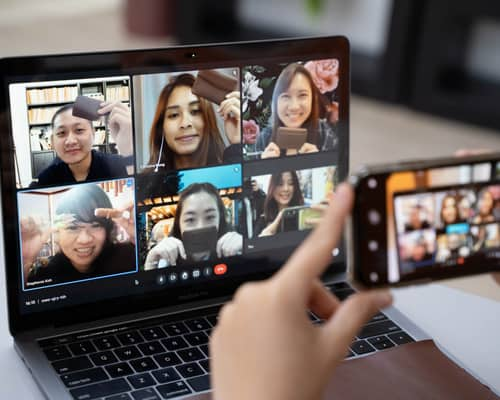 Virtual Creative Workshop

100% Online

✓ In Your Own Home, At Your Convenience
✓ No Need To Travel Out
✓ At Your Preferred Time and Schedule
✓ All You Need Is Stable Wifi and A Computer/Laptop
✓ Professional Live Facilitation During Your Session
✓ Up To Unlimited Pax

Other Locations

Do you have other locations in mind? Don't worry, we are able to bring the event to you!
Let us know your preferred event venue and we can make it happen!
What Is Art Jamming Singapore?
Art Jamming Singapore is the coolest creative activity in town. Get together with your friends, family and loved ones in our art jamming studios as you bond through the creative process of creating your very own paintings! Let your imagination run free and relieve stress in our relaxing art space. What's more, you may get to make new friends in our Art Jamming workshops as well!
When we say you can unleash your creativity, we mean it! Paint your favourite manga drawing or create your own abstract art in our Workshops. If you're stuck for ideas, our facilitators will be on hand to guide you along as well :)
Unleash your inner Picasso and experience the best Art Jamming in Singapore today!
Art Jamming in Singapore is suitable for corporate team building, birthday parties, celebrations, casual gatherings and more!
How Is Art Jamming Singapore Conducted?
Here at Art Jamming Singapore, your comfort is our number one priority. Our relaxing Art Jamming sessions are always held in a fully air-conditioned room so you can sit back, relax, and enjoy yourself. We are the only Art Jamming provider in Singapore that can host large scale Art Jamming events of up to 150 pax at our art space. At Art Jamming Singapore, we provide all the materials you need to get creative (such as unlimited acrylic paint and blank canvas or tote bags). Paint samples or reference pictures at our art studio are also available to guide and inspire participants through the creative process. Our experienced instructors will play relaxing music to help you relax during the art jam sessions. Once you have completed your paintings during your art jam in this relaxed environment, feel free to bring home your art piece too!
We're also able to conduct Virtual Art Jamming Workshops for teams that are working from home! All necessary materials will be delivered to participants' doorsteps before the day of the event.
Do I Need To Bring My Own Art Jamming Materials Or Painting Tools?
No, you do not! All art tools, materials and art supplies are provided so all you have to do is just show up to the art jamming studio, ready for the art jams!
Can I Still Attend Your Art Jamming Session If I Have No Art Experience Or Have Not Attended Art Classes Before?
Yes, of course! Our proprietary Art Jamming Workshop curriculum is specially designed for all skill levels and ages. From budding artists to those looking to improve their painting skills, our Art Jam sessions are suitable for all!
Why Should I Attend Art Jamming Singapore?
Attending an Art Jamming workshop with us has numerous benefits. Firstly, you'll get to bond and learn more about your team members or friends in a relaxing and stress-free environment. Through the Art Jam, you'll also be able to de-stress and express yourself creatively while making something that you can call your own!
How Much Does Your Art Jamming Singapore Workshop Cost?
Our affordable Art Jamming Singapore packages start from $25/pax and are suitable for all occasions. With over 3,000+ 5-star reviews from our clients, this is one of the most fun activities you should try with your team!
What Is The Most Popular Art Jamming Package For Corporates?
We provide a variety of Art Jamming packages for our clients to select from, including some of our most popular options like the Neon Art Jamming Package (which utilizes special fluorescent neon paints that none of our competitors offer), the Tote Bag Art Jamming package (where you can paint your own tote bags), and the Group Art Jamming package (where you and your team of art jammers will collaborate on one painting). We are also able to tailor an ArtJammin'g package specifically for your event's requirements. So please don't hesitate to reach out to us for more information about art jamming at your next corporate team building event!
How Many Days In Advance Must I Confirm My Art Jamming Booking?
We would require a lead time of at least 3 working days in advance so that we can make the necessary arrangements for your Art Jamming workshop.
Can I Do A Last-Minute Booking For Art Jamming?
For any last-minute Art Jamming workshop booking, please call us directly at +65 6515 4146 or mail us at hello@thefunempire.com for more information. Our friendly events consultants will be happy to provide you with more information and help you with your Art Jamming booking.
How Long Is Each Art Jamming Workshop?
The length of our Art Jamming workshops varies depending on the package you choose. The duration of the standard Art Jamming workshop is around 1.5 to two hours. We are able to customize the duration of the art jam according to your needs too. Contact our friendly event consultants for more information!
What Are Your Recommended Art Jamming Studios In Singapore To Hold The Art Jamming Workshops?
Our most recommended art jamming studios would be Hyperspace @ Lavender and Fun Empire HQ @ Mountbatten. At these locations, you and your friends are sure to have a blast! These two art jamming studios in Singapore are fully air-conditioned and the ONLY art jamming studios in Singapore that can accommodate up to 150 pax for Art Jamming.
You can also choose to hold your Art Jamming session at your own art jamming studio, art space or private venues. Contact us for more information about the best art jamming studios in Singapore, such as if you're looking for a more avant garde art space.
We also have Virtual Art Jamming workshops for participants to enjoy the session from the comfort of their own home.
Can I Choose To Conduct The Art Jamming Workshop Session At My Own Location?
Yes, of course! If you have an art studio or private venue in mind, simply contact us and we'll see if it is suitable for our Art Jamming workshops!
Are Your Art Jamming Sessions Suitable For Everyone?
Yes, we've conducted thousands of Art Jamming workshops over the past few years. Our Art Jamming workshops are family-friendly and suitable for a wide age-group from kids to adults. Do contact us for more information!
Are There Add-ons Available For My Art Jamming Event?
Art Jamming Singapore by Fun Empire is a one-stop event solution for all your event needs. We provide add-on services for your art jam such as buffet catering, bus transport, corporate gifts and many more! As a one-stop events company, we are committed to helping you have the best event experience ever.
If you would like to bring your own food, it is possible as well. Do contact us for more information!
Can I Purchase An Art Jamming Kit As A Gift?
Yes! As part of the Fun Empire range of DIY Creative Home Kits, we have adapted our award winning creative workshops into DIY Home Kits for purchase. Choose from either Canvas or Tote Bag Art Jamming Home Kits and let your recipient's creative juices flow from the comfort of their home! All the materials and art supplies such as paint brushes and step by step instructions are included, and the kit will be delivered within 3-5 working days! They make great corporate gifts as well!
Will My Art Jamming Event Be Private?
When you book a group art jamming workshop with us, you will be able to select your preferred date, time and event location for an exclusive session only for members of your group. This way, when everyone shows up at our art jamming studio ready to paint, the relaxing atmosphere is more intimate since everyone knows each other. However, we do also have a public art jamming workshop which could be perfect if you have 2 people in attendance instead! This gives individuals the chance to make new friends while having the opportunity to de-stress and paint!
Why Do We Use Acrylic Paint And Not Fabric Paint?
Fabric paint is not as durable as acrylic paint and is more likely to fade over time. Acrylic paint, on the other hand, dries quickly and can easily be cleaned up with water. It also comes in a wide range of colors and finishes, making it a versatile painting medium. So don't worry about bringing any acrylic paint to our Art Jamming sessions – all materials Including paints brushes are provided! Just come ready to have fun :)
Can I Book Art Jamming Singapore For Other Occasions Apart From Team Building?
Yes! Our Art Jamming workshops are perfect for all sorts of occasions, not just corporate events. Whether you're planning a birthday party, school program, date night or just looking for some casual fun, we can help you plan an amazing event that will let your imagination run wild!
What Should I Wear To An Art Jamming Session? Do You Provide Hair Nets Or Aprons?
We recommend participants to dress comfortably in clothes that they do not mind getting dirty. We do not provide hair nets, but aprons are provided at our venues!