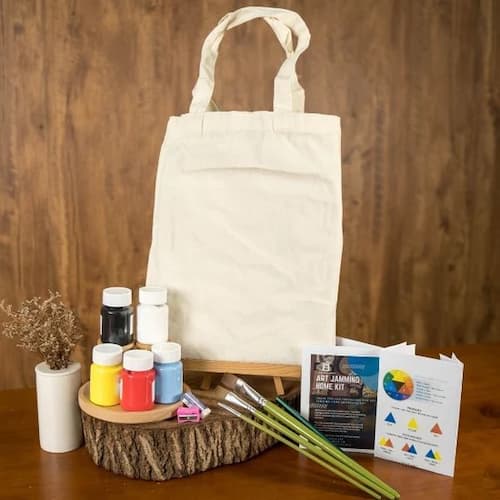 Art Studio
Looking for a fun and creative way to spend your weekends? It's no secret that Singapore is a thriving arts and culture scene. From traditional art forms to the latest contemporary trends, there's something for everyone to enjoy. Why not check out one of Singapore's many Art Jamming art studios? These studios offer classes and workshops in a variety of mediums, from painting to sculpture.
Art Jamming is also perfect for team-building events or parties. Here are some of the most popular art studios in Singapore.
If you're looking for a unique way to experience the art world, why not check out one of these popular art studios? They offer everything from painting and drawing classes to art jamming sessions, so you can unleash your creative side!
So what are you waiting for? Check out these Art Jamming Art Studio today!
Recommended Studios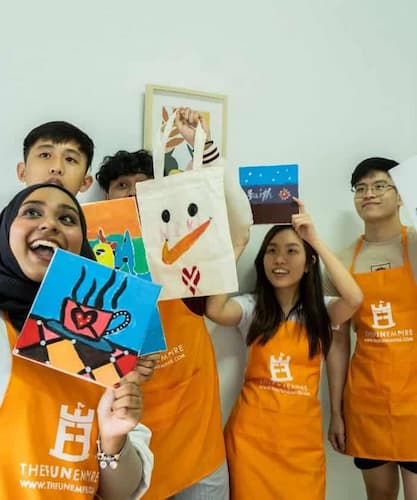 The Fun Empire Art Jamming Workshop provides an amazing experience for people of all levels, one of the OG art jamming studios. From beginners to experienced painters, this workshop has something to offer everyone.
Professional experts take you through step-by-step guided instructions on how to create your own masterpiece. The friendly facilitators encourage participants with their creative ideas and provide expert advice and guidance.
With the help of these helpful facilitators, you can create gorgeous masterpieces in no time!
Fun Empire offers art jamming workshops as Individual Art Jamming, Group Workshop, Tote Bags, Neon Workshop, Virtual Workshop, Home Kits and many more! To know more about Fun Empire's Art Jamming Workshop, and unleash your artistic passion, click here!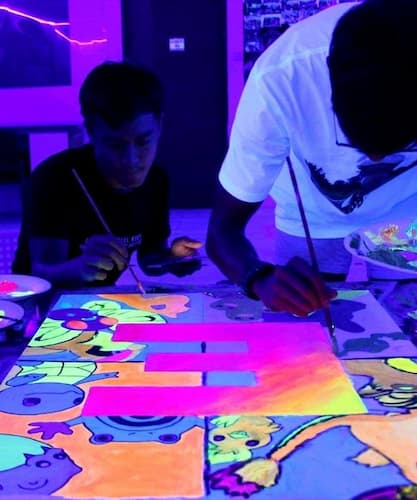 If you're looking for a unique art experience that no other art jamming workshop can offer, Hyperspace is the perfect place to go. They boast the best art jamming experience in Singapore and specialise in neon art jamming.
Exploring interesting variations of art jams, like themes such as "Animal Kingdom" and "One Special Starry Night", as well as regular painting lessons, this aesthetically pleasing environment makes it easy for anyone to express their creativity.
Whether you are an experienced artist or an intrigued beginner, Hyperspace is guaranteed to provide hours of creative fun!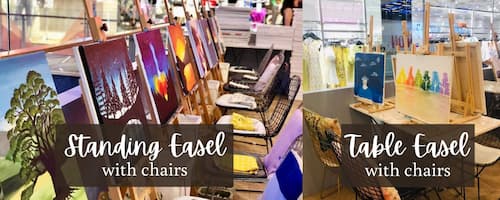 Cafe de Paris offers an inexpensive high tea experience and also provides a free-and-easy art jamming session, perfect for those looking to express their creativity. For only $28 per three hours of painting, you'll gain access to e-guides and reference pictures - should some inspiration be needed! So take a break from the mundane routine of life and immerse yourself in Cafe de Paris' stimulating atmosphere.
Once you've completed your masterpiece, make sure to take a moment and relax at this Korean-inspired cafe with your own food. Enjoy some coffee and cake along with a variety of scrumptious bonbons!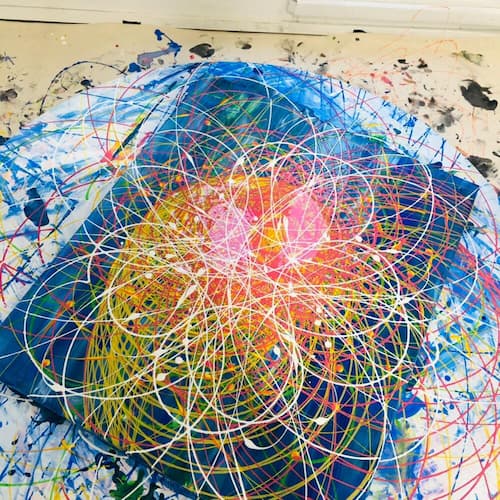 Feeling creative? Come to the hottest spot in town for an unforgettable art jamming experience! With pendulum and spin painting, you'll be able to turn your vision into a work of art with minimal effort. Say goodbye to complicated techniques - no background in art is required here! Your masterpiece awaits.
Unleash your inner Picasso and go with the flow of your creative process while doing your gorgeous masterpieces! Just let gravity do the work! With prices starting from $69, the casual space is ideal for fun dates, family activities or group gatherings.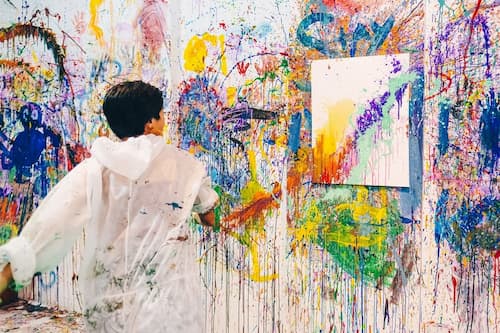 Let your creative juices flow and create a unique work of art at the city's only splatter paint studio!
Plus, Splat Paint House don't dictate what you should or shouldn't do; it is complete up to you. No matter if you want to spruce up your wall with something special, or just use the tables as an outlet for stress relief, they make sure that all of your artistic desires are fulfilled. Unleash yourself onto canvas and have some fun – get messy with them today! Say no more about freestyle painting, right?
Don't forget to come dressed for a mess! Don't worry for Splat Paint House will provide shoe covers, hair nets, and gloves. Or if you want something more unique, try their sister studio Spin Paint House where you can spin your canvas at high speeds creating an awesome piece of artwork!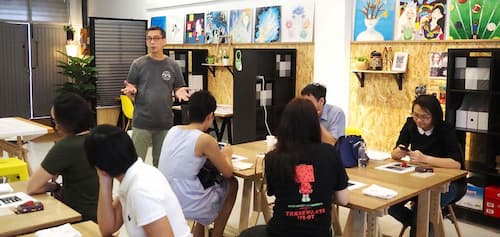 If you're looking to express your creativity and make new friends, drop by Artefakts! Here, you can paint whatever comes to mind in a two-and-a-half hour therapeutic art session.
Plus, their friendly team is available should you ever need assistance on basic techniques or tools - plus the materials provided for painting: canvas, acrylic paints and brushes included.
Want more? They also offer classes like ceramic tile painting, drawing basics and paper marbling!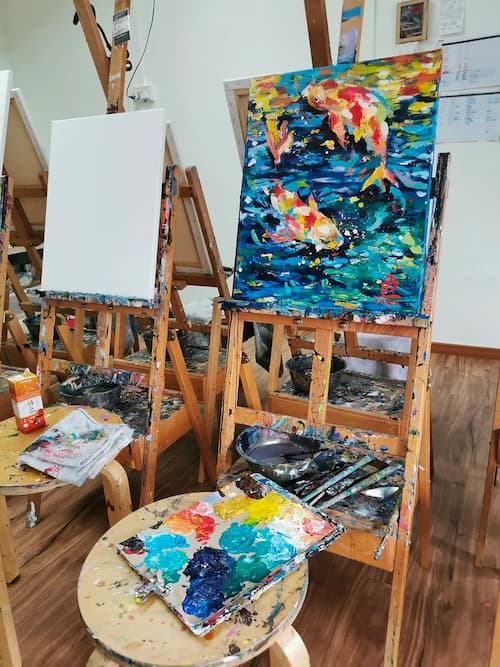 Brimming with inspiration, Liberty Art Jam is the perfect destination for art enthusiasts to express their creativity and explore various techniques! Regardless of your level of experience or skill set in painting, this studio will make you feel right at home.
With activities that cater to any artistic ability, let yourself be immersed into a vibrant atmosphere where you can unleash your inner artist.
Unleash your creativity with a whimsical art session at Liberty Art Jam by Artify Studio! With an affordable workshop, you'll receive personalized guidance from expert instructors to help you craft the perfect masterpiece.
Included in this special deal are 40x50cm canvas size and all of the materials required for painting such as acrylic paints, brushes, palette knives, aprons and water buckets - plus even plastic carriers to take home your artwork when it's complete.
If you feel confident enough that your skills don't require instruction or assistance we also offer unguided 2.5 hour sessions on weekdays, so come explore artistic freedom today!
An easy art jamming affair, that can let you introduce beautiful abstract art.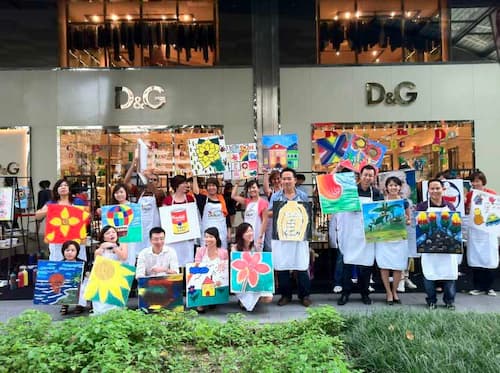 Unleash your creativity with a 3-hour freestyle painting session at their hangout for budding artists. Plus, they provide everything you need, such as a 50x50cm canvas plus brushes, palette knife, paint colours, and acrylic paints to get started!
And not only that, but each session also comes with free drink - giving you the perfect opportunity to relax and unwind - along with a nifty takeaway canvas box so you can show off your masterpiece long after it's painted.
Arteastiq also hosts themed days: ladies get a discount on Wednesdays and everyone receives a free snack on Thursdays. Feeling uninspired? Check out the samples of great works to get your creative juices flowing.
An affordable lifestyle experience, right?
Art Studio
With art jamming becoming increasingly popular in Singapore, it's no wonder that more and more art jamming studio are popping up to meet the demand. Whether you are a beginner or an experienced artist, there is something for everyone.
These jamming studios in Singapore has spacious studios equipped with all the necessary supplies, professional instructors and affordable prices, these popular art studios make it easy to get creative and tap into your inner artist. From learning basics like figure drawing and floral painting to mastering Instagrammable artworks, art jamming at these all-inclusive studios makes it an enjoyable and hassle-free experience.
So what are you waiting for? Get ready to discover the joy of creating your own pieces of art!
Frequently Asked Questions
What type of art can I create at an art studio?
At art studios, you can create all kinds of art depending on the type of session you choose. Common options include painting with various tools, such as acrylic paints and brushes, ceramic tile painting, paper marbling and drawing basics. Unguided sessions are also available for those with some artistic experience who wish to explore their creativity freely, you can opt for these art classes too!
Do I need any prior experience to join an art jamming session?
No prior experience is necessary to join an art jamming session. These studios are designed to accommodate all skill levels and make it easy for even the most inexperienced artist to feel comfortable and confident. The instructors at these art studios provide guidance and assist in honing your skills while being encouraging and supportive during the entire process.
Are all materials provided for use during the session?
Yes, all of the necessary materials and painting equipment are provided for use during an art jamming session. Depending on the studio and type of session, supplies may include a variety of tools such as paintbrushes, palette knives, sponges and other painting utensils. Acrylic paints in a multitude of colors are also included so that you can use colors depending on your liking.