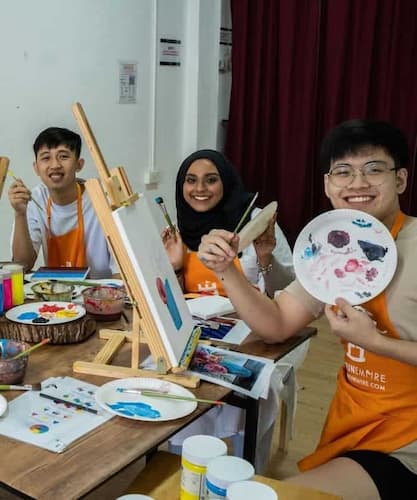 Art Jamming
What is art jamming? If you're not familiar with the term, it's a form of creative expression that involves a group of people working together to create art. It can be painting, drawing, sculpting, or any other type of creative activity.
Art jamming, also known as art jams or simply jams, is a creative activity that involves a group of people coming together to create art. Art jamming is popular in Singapore, and there are several places where you can participate in an art jam session.
It can be done with any type of medium, including paint, markers, crayons, and even digital tools. Anyone can participate in an art jam – all you need is some creativity and willingness to experiment! Painting skills are not required as long as you have the creative process in you, then you'll surely create gorgeous masterpieces!
In this article, we will tell you more about what art jamming is and how you can get started.
Benefits of Art Jamming
Art jamming is becoming an increasingly popular activity as it offers a chance to relax and express your creativity. Whether by using reference pictures, a blank canvas, this is an easy art jamming affair that will surely let you create beautiful abstract art and create gorgeous masterpieces.
1. Art Jamming workshops help relieves stress
Not only does it make for an enjoyable experience, but also plays an important role in helping individuals find solace during difficult times or reduce stress after a long day.
2. Art Jamming workshops help with creativity
Furthermore, taking part in art jamming allows you to tap into new parts of your brain and challenge yourself to think differently. It can be especially helpful for those who feel overwhelmed or stuck in their everyday lives, providing them with the opportunity to open their minds through colour and texture to explore new ideas without worrying about the end result.
Unleash your inner Picasso and let the creative juices flow with this art jam sessions!
3. Art Jamming can strengthen relationships
By engaging with others during art jamming sessions, participants can benefit from forming meaningful bonds that would not have been made otherwise. All in all, art jamming is a fantastic way to step back from everyday life and discover creative expression while making meaningful connections at the same time!
4. Art Jamming is a form of art therapy
Art jamming is a form of art therapy that can be used to help people express their emotions and thoughts. The act of painting can be therapeutic, as it can help to release stress and anxiety. Additionally, the act of painting with others can help to promote social interaction and communication.
5. Art Jamming is a way to relax
Art jamming is also a great way to relax and unwind. The act of painting can be calming and meditative, and it can help you to forget about your troubles for a while. Painting with others can also be a fun and social activity that can help you to meet new people.
Don't miss out on these relaxing art jamming sessions!
6. Art Jamming is a creative outlet
For many people, art jamming can be a creative outlet that allows them to express themselves in a unique way. The act of painting can help you to tap into your creative side, and it can be a great way to explore your imagination. Painting with others can also inspire you to try new things and experiment with different techniques.
Unleash that inner Picasso in you and get creative with your freestyle painting! Play with paint brushes, paint colours, painting equipment, palette knife, and other art tools and painting equipment available!
7. A way to bond with others
Art jamming can also be a great way to bond with others, as it can help you to connect with them on a deeper level. The act of painting together can help you to share your thoughts and feelings, and it can also help you to create lasting memories.
8. An opportunity to try something new
For many people, art jamming is an opportunity to try something new that they may not have otherwise had the chance to do. The act of painting can be liberating, and it can help you to step outside of your comfort zone. Painting with others can also challenge you creatively, as you may be inspired by their ideas and perspectives
Tips for Participating in Art Jamming
Art jamming is a great way to relax and express your creativity with others, but there are some things you need to keep in mind when participating in an art jam session. Here are some tips on how to make the most out of your art jam experience:
1. Do your research
Before you participate in an art jamming session, it is important to do your research and find out as much as you can about the activity. This will help you to be better prepared and know what to expect.
You can find information about art jamming online or by speaking to someone who has participated in a session before. Check out what best suites your artistic passion to let your imagination run free!
2. Choose the right location
When participating in an art jamming session, it is important to choose the right location. The location should be comfortable and spacious enough for everyone to move around freely. It should also have good lighting and be free from distractions.
Choose the Art Jamming studios most convenient for you. Apart from Fun Empire, you can try Motion Art Space, Liberty Art Jam, Spin Paint House, Artify Studio, Arteastiq Boutique Tea House, for your art classes.
3. Bring the right supplies
Make sure that you bring all of the art supplies that you need for the art jamming session. This includes things like painting supplies, paper, and scissors. It is also a good idea to bring some snacks and drinks so that you can stay hydrated and energized throughout the session. However, here at Fun Empire, all materials provided for you. Perfect for budding artists and for those who want to be introduce beautiful abstract art!
4. Follow the rules
When participating in an art jamming session, it is important to follow the rules that are set by the organizer. These rules are put in place to ensure that everyone has a safe and enjoyable experience. If you are unsure of any of the rules, be sure to ask the organizer before beginning the activity.
5. Have fun!
The most important thing to remember when participating in an art jamming session is to have fun! This is a time for you to relax, let loose, and be creative. Don't worry about making mistakes or whether or not your artwork is perfect. Just enjoy yourself and have a good time!
Fun Empire are one of the best art jamming studios in Singapore, plus we offer different variations and art experience! Check out the different Art Jammers activity below:
Recommended Activities
1. Individual Art Jamming Workshop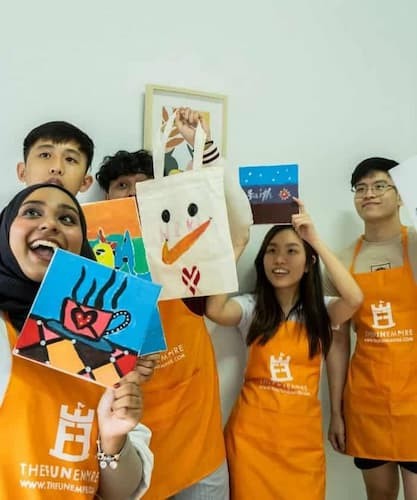 Unleash your creativity and take part in an individualized art jamming experience with FunEmpire! Using your own painting supplies, enjoy learning to make a masterpiece with guidance from one of our professional artists. From concept drawing to brushwork, you'll get to unlock your own inner artist.
Our art jamming is suitable for all - regardless of whether you're a first timer or someone more advanced in the world of art. Follow our dedicated instructors as they demonstrate how to use all the materials available while fostering a fun and creative environment. Spend time strengthening bonds with friends, colleagues or loved ones through the beauty of art! Get jamming today with FunEmpire!
2. Neon Art Jamming Workshop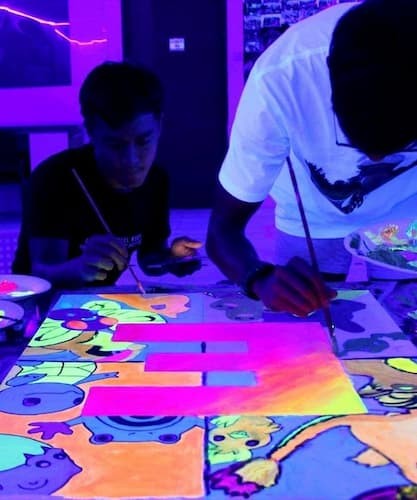 Create your best artwork masterpiece with us at our Neon Art Jamming Workshop! Our fluorescent neon paints and painting tools will allow you to explore and express your creativity in a unique and exciting way. Not only do you get the chance to paint with these special neon paints, but you'll be able to watch it glow-in-the-dark!
Come join us as we light up the dark with each new masterpiece created in this special art jamming session. Experience something truly artistic and enjoy each moment of creating your one of a kind painting.
3. Tote Bag Art Jamming Workshop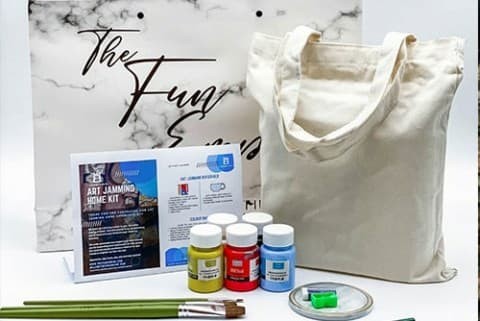 Attend the Tote Bag Art Jamming Workshop and dive into a colorful world of arts and crafts! Unleash your creativity, explore your design skills, and create one-of-a-kind tote bags that express your unique style - perfect for yourself or as a memorable gift.
Not sure what design to go with? Our staff of experts will be on hand to provide plenty of guidance and advice. Special supplies and materials will also be available so come ready to make something truly special. Join us for this jam session - it's going to be one creative blast!
4. Group Art Jamming Workshop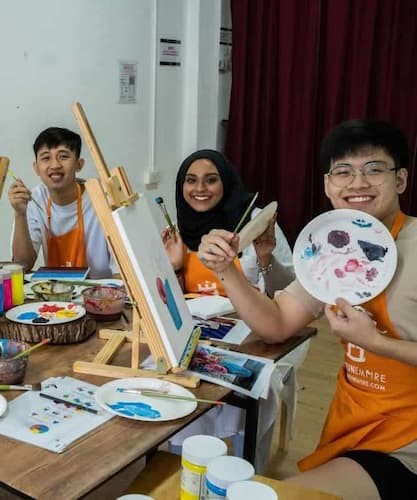 Group Art Jamming is a great way to express your inner artist and be creative on a whole different level. Set up your canvas and create beautiful art together while engaging in conversation and having fun. It's the perfect bonding experience for families, friends, or colleagues that not only builds relationships but is relaxing and therapeutic as well.
The end result will be an amazing large-scale artwork that you can admire for years - definitely worth it! So why not join us for a Group Art Jamming session, come unleash your creativity today!
5. Virtual Art Jamming Workshop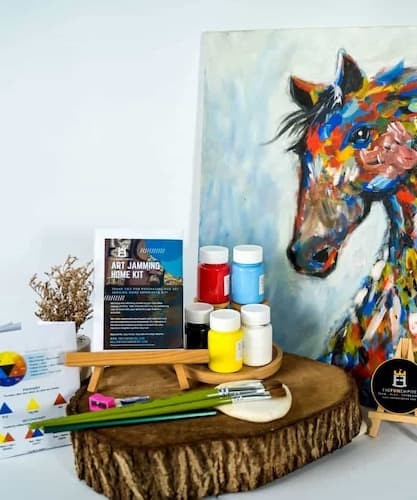 Participate in an interactive virtual art jamming workshop right from the comfort of your own home! With dedicated facilitators, you'll get an art jamming home kit delivered straight to your doorstep that includes all the tools and materials necessary to create beautiful works of art.
Throughout the workshop, you will be guided step-by-step through the process of transforming ordinary objects into extraordinary pieces of art. So dress up in your favorite colors and unleash your inner artist with this fun and unique experience!
6. Public Art Jamming Workshop
Get Creative! From painting and leather crafting to making your own leather coin pouch and key fob, get some hands-on action at FunEmpire! Perfect for groups of all sizes (minimum 2 pax), our public creative workshops are perfect for family bonding, dates, or to learn a new skill! You can purchase a creative workshop experience and give it to your loved ones to brighten up their day too!
7. Art Jamming Creative Home Kit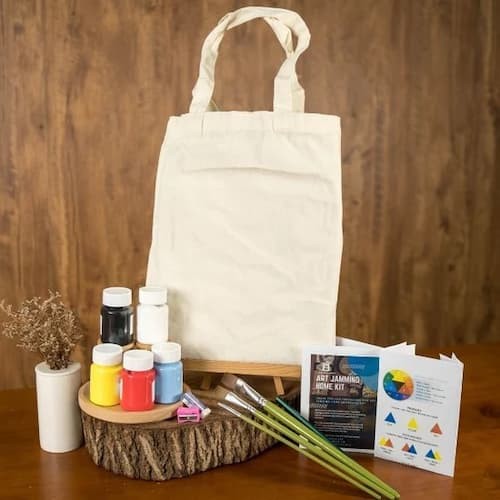 Art Jamming offers an easy, fun and affordable way for families to explore their creative sides. With the new Creative Home Kits, the activities can be enjoyed safely at home with the guidance of experienced instructors right at your fingertips!
The kits come with everything you need to get started on a new project in no time, including brushes, paints, canvases and more. With each kit providing an engaging craft experience that will leave your family feeling refreshed and inspired, it's time to experience the beauty of art jams!
Also, this art canvas home kit will let you be free in your canvas expression. Here are the inclusion of the home kit:
1 Pcs (30cm x 40cm) Art Canvas. Size
Acrylic Paint 5 Colours (Red, Blue, Yellow, Black, White)
Color Mixing Chart (Make Unlimited Colors From These 5 Primary Colors)
Paint Brushes (1 x Small, 1 x Medium, 1 x Large)
Pencil & Eraser
Paper Plates
Home Experience Kit Instructions
Plus, these Creative Home Kits are perfect for you to bond with your family at home, try your hands at a fun and unique activity, or to gift an interesting experience to your loved ones to brighten up their day! The creative home kits are suitable for both adults and children!
8. Customisable Art Jamming Workshop
Need a custom art jamming team building package or more complex solutions for your event beyond our games? Unable to find the information you're looking for?
Fret not! Get in touch with us now! We will handle EVERYTHING for you! Our friendly event expert will review your request and send you a personal response within 24 hours or less!
Art Jamming
Art jamming can be a fun and creative way to express yourself. It allows you to let your imagination run wild and create your very own artwork, regardless of skill level or creativity. The possibilities are nearly endless, from using paint to ink or even creating digital art pieces.
In addition, there are many art jamming spaces in Singapore that offer different packages, depending on your needs and budget. So, if you're looking for a fun and relaxing activity this summer in Singapore, why not give art jamming a go?
With the right mindset and space, you'll be sure to create something one-of-a-kind that you can proudly display in your home. So join our Fun Empire Art Jamming Singapore today!
Frequently Asked Questions
What is the difference between art and craft?
The main difference between art and craft is that art is self-expression, whereas craft is more utilitarian. With art, the artist is often trying to communicate a message or feeling, while with craft the focus is on producing a useful object. Additionally, art is often judged on its aesthetics, while craftsmanship is typically prized in craft objects.
What can I make with an art jamming kit?
With an art jamming kit, you can create a wide range of artworks and crafts. To get started, you will need the basic supplies such as paint, brushes, canvas, and other art materials that come with a typical art jamming kit. The possibilities are endless!
Can I bring my child to an art jamming studio?
Yes, you can bring your child to an art jamming studio! Art jamming is a great way to get creative, have fun and learn something new. It's also a great activity for bonding with your family. Art jamming studios provide a safe and welcoming environment, as well as all the materials and tools needed for the session.